Sub-Saharan Africa Editorial Achievements – 2016
Based in Geneva, the IHS Africa team comprises 15 members speaking nine different languages dedicated to the coverage of the increasing activity in the continent. The team uses its well established network on the ground including NOCs and IOCs to improve our reports and data quality.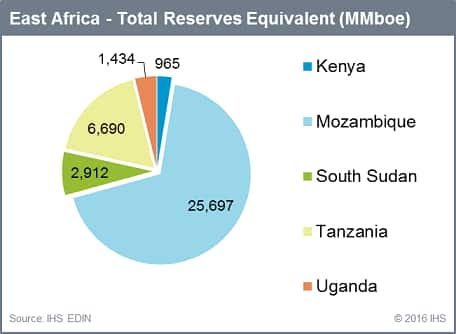 East Africa (Uganda, Kenya Mozambique and Tanzania) are expected close to the oil and gas production phase. Our experts publish up to date and insight information about Uganda, Tanzania, Kenya, Mozambique and Madagascar especially the changing timeline of the development projects and the information about bid rounds.
In 2016, the editorial staff and researchers attended more than 10 conferences and workshops made more than 10 presentations to help you understand the Africa E&P sector.
Two articles, papers and posters were presented in conferences or published by Oil and Gas magazines.
Database Enhancements – 2016
Basins Monitors – Natal Trough, Anza, Outeniqua Kwanza and Morondava Basin Monitors totally reviewed
Giant Fields – Completed 8 Giant (2P EUR >=500MMboe) Field Reviews which included a full revision of remarks, reserves, development, production volumes and IOR/EOR techniques
Gabon – Entered 33 and updated 77 historical wells (2010-2015) with dates, TD's and coordinates
Madagascar – Updated 61 wells with improved datum information
Angola – Updated 25 licences with production block name to ensure consistency with field names enabling easier extraction of production data by blocks
For information relating to data improvements in 2015, download our Saharan Africa Data Enhancements 2015 Summary