Saharan Africa Editorial Achievements – 2016
Based in Geneva, the IHS Africa team comprises 16 members speaking nine different languages dedicated to the coverage of the increasing activity in the continent. The team uses its well established network on the ground including NOCs and IOCs to improve our reports and data quality.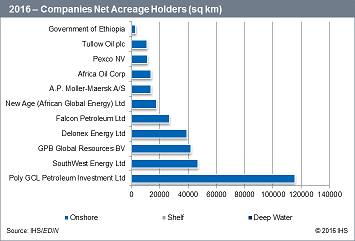 Editorial staff and researchers attended more than 10 conferences and workshops and made more than 10 presentations to help our customers understand the Africa E&P sector.
Two articles, papers and posters were presented in conferences or published by oil and gas magazines.
Database Enhancements - 2016
Algeria – Entered 41 new exploratory wells and updated 74 exploratory wells with data including tops, tests and results
Egypt – Entered 214 new development wells and updated 81 development wells
Egypt – Datum and coordinates review in Datum in Abu El Gharadiq and Badr El Din fields resulted in updates to 79 wells
Algeria – 37 wells updated in the Sbaa Sub-Basin (Timimoun Basin) with detailed test data
Saharan Africa – 882 valid blocks (244 open areas and 638 contract blocks) in 18 countries had their total and split areas recalculated and updated. At the same time the blocks basins and political provinces were also re-calculated and updated if needed
Chad, Egypt, South Sudan, Sudan – 14 blocks had their outline updated following an update of the country boundaries
Libya – 45 contracts and blocks had their political province attribute corrected and a project reviewing all Libya contracts is currently ongoing
Egypt – Entered 6 new contracts, awarded as result of the EGPC International 2016 Bid Round, within 4 days of the official announcement
Egypt, Sudan – 16 lithostratigraphic units were either updated or newly created in the Saudi Arabian part of the Red Sea Basin
For information relating to data improvements in 2015, download our Saharan Africa Data Enhancements 2015 Summary