Northeast Asia Editorial Achievements – 2016
The Northeast Asia team is based in Singapore. We have two basin researchers, one field researcher, a senior cartographer and our regional manager, all with more than 20 years' experience working in the oil and gas industry in the region we also have well and contract analysts based in our Kuala Lumpur office.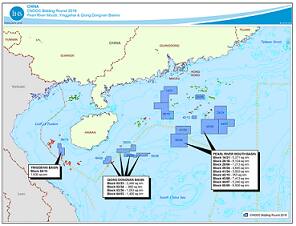 2016 Bidding Blocks, South China Sea
The team covers China, Mongolia, Japan, South Korea, North Korea and Taiwan. The data for this region mainly covers current upstream E&P activities, including seismic survey and wells operation, and field data and basins geology. It also contains general country news, company news, bidding round and downstream information as well. In 2016, the team continued efforts on enhancing data quality improvements, including field complete reviews, field production, basin, well and contract block enhancements.
GEPS China – Entered 18 bidding blocks as part of the CNOOC Bidding Round 2016, with briefing description on geological situation and exploration risks. This provided insightful information to clients for their assessment. Also reported approximately 100 key NFW/Exploration wells.
Database Enhancements – 2016
Basin Monitors – One basin in Japan (Kanto Basin) and 7 basins in China (Erlian Basin, Jianghan Basin, Nanxiang Basin, Ordos Basin, Pearl River Mouth Basin, Santanghu Basin, Tarim Basin) were completely reviewed. Five basin Monitors were partially updated (Hailar, Junggar, Inggenn, Santanghu and East Gobi)
Giant Fields – Completed 4 Giant (2P EUR >=500MMboe) Field Reviews which included a full revision of remarks, reserves, development, production volumes and IOR/EOR techniques (Daniudi, Jiaoshiba, Renqiu and Anyue)
China – Updated field production to 2015 of approximately 700 oil and 250 gas fields
China – Entered a total of 160 new wells
China – Updated 409 well locations
China – Updated 186 wells with correct block or fields to ensure consistency with other data modules
China – Updated 273 wells with either status change, discovery well (new field created), content updates or class updates to ensure modular consistency in Ordos, Songliao and Sichuan Basin
China – Entered 4 new contracts, awarded as result of the Xinjiang Bidding Round 2015
China – Updated more than 680 contracts with official data relating to award, renewal, area change and relinquishments in Tarim, East China Sea, Jianghan, Erlian, Nanxiang, Qin Shui, South Yellow Sea, South Huabei and Bohai basins
China – Updated 212 blocks with new precise calculated area together with reported areas for offshore contracts.
Mongolia – Updated 7 contracts with official data including commitments, participants and dates
For information relating to data improvements in 2015, download our Northeast Asia Data Enhancements 2015 Summary