Middle East Key Highlights – 2016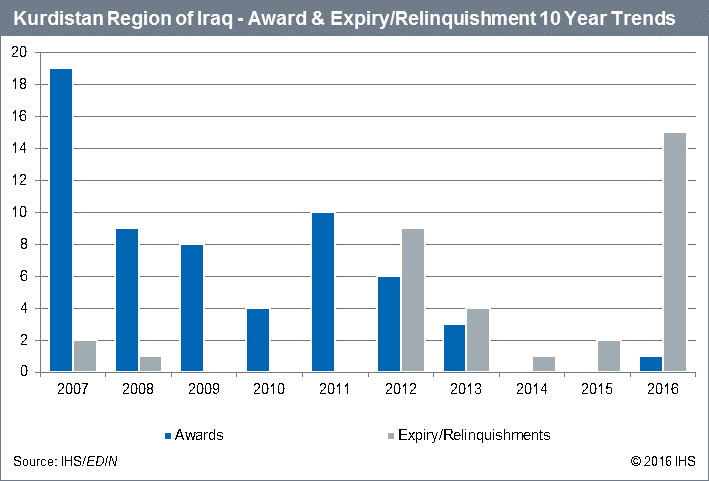 The graphic depicts licence awards and relinquishments in the Kurdistan Region of Iraq over the last ten years. The large amount of relinquishments in 2016 is understood to be the result of several contributing factors including the oil price, security situation, disappointing drilling results and continuing political differences between the Federal Iraq Government and the Kurdistan Regional Government.

Dr. Sarah Haggas and Stuart Lewis are our managers for the Middle East Region based in the Tetbury, UK office. The Middle East team has a staff of ten colleagues, predominantly geologists and GIS specialists, with more than 50 collective years of industry experience. It supplements comprehensive regional E&P coverage with detailed historical research, an approach which enables IHS to effectively map trends as they emerge and forecast resultant supply imbalances which are key policy drivers. A focus upon tracking exploratory activities and forecasting significant emerging plays within a detailed historical context assists IHS clients to develop, acquire or expand existing acreage positions ahead of their competitors. However, sourcing information for this important region remains an ongoing challenge, there is a natural ebb and flow to the process, but retaining experienced technical staff, an extensive contact network and long standing relationships with Oil Ministries, concession operators and their partners enables the regional team to continue the comprehensive, accretionary compilation of energy related information throughout the region.
Activity levels in the Middle East region have continued to be impacted to some degree by low oil prices and political instability. The Kurdistan Region of Iraq has seen a marked downturn in exploration activity in 2016 and activity levels in countries such as Syria and Yemen remain very low. In contrast, the lifting of some international sanctions on Iran has generated a great deal of interest throughout the year. A number of Memoranda of Understanding have been signed with international companies for technical feasibility studies of existing fields. Once the new Iran Petroleum Contract is finalised, bid rounds for development projects and exploration opportunities are expected to be released in 2017.
A number of team members contributed to international press reports, studies and industry journals. Claire Woolsey contributed an article to the PESGB Journal. Stuart and Sarah also provided a number of formal presentations within Europe, the Middle East and Asia including a Technical Keynote Presentation at an AAPG Geoscience Technology Workshop in Bahrain.
Database Enhancements – 2016
Basin Monitors – Damghan Basin, Garmsar Basin, Great Kavir Basin, Qazvin Basin all newly completed Basin Monitors and the Iran Zagros and north Iraq Zagros Fold Belts completely reviewed
Giant Fields – Completed 3 Giant (2P EUR >=500MMboe) Field Reviews which included a full revision of remarks, reserves, development, production volumes and IOR/EOR techniques
Structural Features – 11,300+ new structures for Iran were uploaded including anticlines, synclines, faults, thrusts and salt diapirs
Saudi Arabia – Updated 765 wells with header data
Saudi Arabia – Comprehensive well data updates made including stratigraphy and coordinates to 4 wells in Midyan and Al Wajah Basins, 2 wells entered
Iran – Names reviewed for 717 wells
Iran – Updated 10 wells (2 new, 1 removal) - with new dates, location and stratigraphy where available, updated 26 wells in the Darquain field either correcting locations or creating a new well entirely and updated 9 wells with test data in Azadegan field
Iran – Entered and quality checked 1208 geochemical properties over 151 geochemical samples in 30 wells within the Persian Gulf
Iran – Updated 518 wells with data ranging from coordinates, naming conventions and dates
Iran – Entered 20 historical Iran contracts, with dates ranging from 1872 up to 1957 and including multiple area changes and the historical D'Arcy Concession of 1901
Iraq – Updated 12 well locations in Taq Taq field
Iraq – Updated 367 wells with correct operator group
Iraq – Updated stratigraphy, geochemical data and coordinates for 5 wells in East Baghdad, 10 wells in Nasiriyah and 17 wells in Subba fields
Jordan – Entered 246 oil shale wells with coordinate, elevations, overburden and oil shale thickness, TD and stripping ratio
Kuwait – Updated 301 wells with improved coordinates and 563 wells with reliable datum
Iraq, Qatar, Jordan, Kuwait – Updated 134 well locations and entered 120 wells (updated 15 and entered 1 in Iraq, updated 24 and entered 16 in Qatar, updated 4 in Jordan, updated 90 and entered 103 wells in Kuwait)
Oman – Entered 115 new production wells and updated 690 production wells across 11 fields for correct location, BH co-ordinates and deviation type
Oman – Entered and updated 39 exploration wells with header data
Oman – Updated 690 wells across 11 fields with correct location, BH coordinates ad deviation type
Turkey – 1,091 wells updated with missing attributes including 71 bottom hole formations, 381 spud/comp dates, 53 TD's and 671 remarks and 105 stratigraphy
UAE, Abu Dhabi – Updated 130 wells including classification content, start and end dates
UAE, Abu Dhabi – Updated 450 wells with operator details and 424 wells with updated block information in Zakum field
Yemen – Updated 29 bottom hole locations and deviation types and 6 surface locations in the Habban field
Divided Zone – 327 development wells updated with missing TD's
Middle East – Updated 87 stratigraphic and relief wells with content, status and classification
Middle East – 60 blocks outline were updated to correct overlaps or gaps between blocks in Iraq, Jordan, Kuwait, Lebanon and Oman
Saudi Arabia and Yemen – 33 contract and 152 open blocks had their basin and political provinces re-calculated and corrected
Middle East – Updated the outlines of 575 historical blocks to fit with cultural lines such as borders and coastlines
For information relating to data improvements in 2015, download our Middle East Data Enhancements 2015 Summary