Latin America Editorial Achievements – 2016
The Latin America regional team is based in Houston and Moscow. Our 28 member staff includes basin and field researchers, geologists, geophysicists, engineers, and cartographers with an average industry experience of some 20 years. Combined, eight languages are spoken with a focus on Spanish and Portuguese.
Latin America is one of the most active regions in IHS Markit's global network. The region is top-ranked in terms of exploratory wells with a total of 175 either NFW, NPW or outpost wells spudded in 2016. Although regional activity ranks 2nd in the world, exploration drilling fell considerably from the 284 exploration wells spudded in 2015. For the first time in many years, no NFWs were spudded offshore Brazil and there were no significant discoveries in the country during 2016.
Mexico continued its historical opening with the conclusion of its Ronda 1 Deep Water and Trion Farm-Out bid round with 9 of the 11 blocks on offer taken by many of the world's leading major companies. The Mexican bid rounds continued in 2016 including the opening of another shallow water round with 15 blocks and two onshore bid rounds running concurrently with 26 blocks on offer.
In 2016 the USGS named the underexplored Guyana-Suriname Basin as the world's second-most prospective offshore basin. Our Atlantic Margin team provided up-to-date and accurate coverage of contract and exploration activity in this offshore frontier area. Of particular interest and inquiry was the Liza appraisal program; the 2015 world-class discovery and the declaration of commerciality in 2016 represented a first in Guyana's 50-year history.
The Andean team kept clients current on 633 contracts covering some 809,000 sq km in the region. In Colombia, Ecopetrol's Ronda 2016, the high-profile FARC peace process, changes in government, offshore incentives, and proposed revisions to the contract scheme were significant events timely reported throughout the year. In 2016, mergers and acquisitions were also accurately updated in both GEPS and our global database.
IHS Markit attended the historic XII Symposium Bolivariano in Bogota, Colombia. Locally, our team was represented at OTC, NAPE, BRAATEC, and ColombiaTexas Chamber events to further establish contacts with NOC's, government officials, and numerous players in the energy industry.
Data projects to enhance the producing fields database in Latin America continued in 2016. Due to the release of data by the ANP, our team upgraded reserves for 354 separate fields in Brazil. Also a large data set in Mexico was released by the CNH as public information. This will result in long-term project updates of the 509 contracts, 781 fields, 373 seismic surveys, and over 30,000 wells. Excellent team coverage provided timely reporting of E&P licensing rounds in Argentina, Mexico and Peru throughout 2016.
The Latin America team contributed to over 30 client presentations and operational summary updates during 2016. Prompt responses to daily client inquiries remain high priority and hallmark the teams' solid foundation for exceptional service and deliverables. Individuals continued to deliver county focus presentations and moderated the monthly Latin America Industry Forum (LAIF) meetings in Houston.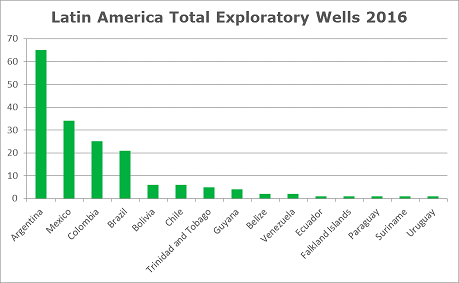 Latin America Exploratory Wells 2016
Latin America Key Highlights – 2016
Basin Monitors – Campeche Deep Sea Basin, Catemaco Fold Belt, El Burro-Peyotes Arch, Mexican Ridges Province all newly completed Basin Monitors and the Chiapas, Chaco, Chiapas, Colorado, Cretaceous, Upper Magdalena, Middle Magdalena, Trinidad and Yucatan Platform basins completely reviewed
Giant Fields – Completed 15 Giant (2P EUR >=500MMboe) Field Reviews which included a full revision of remarks, reserves, development, production volumes and IOR/EOR techniques
Mexico – 860 field annual production volumes entered for 2015 and entered 12,835 volumes covering 1P, 2P, 3P oil, gas and condensate recoverable and in place reserves for 761 fields including reservoir detailed split of volumes for 2014, 2015 and 2016
Mexico – 243 wells received API names
Mexico – Updated 470 blocks with official/accurate coordinates and updated 70 contract and blocks with new current and alternate names following CNH listing
Mexico – 9 new contracts entered, awarded as result of the CNH-A1-Trion/2016 Bid Round (1) and CNH-R01-LO4/2015 Bid Round (8) one day after the official announcement
Mexico – 72 Contracts were updated with extended expiration dates
Barbados – Entered the contract, awarded as result of the Barbados 2015 Offshore Licensing Campaign within 4 days of the official announcement
Colombia – 6 new contracts entered, awarded as result of the Ronda Campos Ecopetrol 2016 within 3 days of the official announcement
Cuba, Venezuela – 297 blocks corrected with new calculated area and official reported areas
Brazil – 62 block outlines modified, 15 Relinquishments and 15 current name updated
Brazil – Entered bottom hole coordinates for 2,318 wells
Brazil – Populated API well name for 51 wells
Brazil – Updated start and end dates in 588 historical wells
Trinidad & Tobago:

Entered 8,935 new onshore wells
Updated 1,186 wells from approx. or field center coordinates to reliable ones
Populated official abbreviations for around 120 wells

Venezuela – Updated surface and BH coordinates in 1,405 wells in Zuata field as well as a further 440 wells entered
Venezuela – Revised development wells in Cerro Negro area resulting in 684 wells entered and 392 wells updated
Peru – Entered 200 abbreviations and updated 350 names in 277 wells in Lobitos Offshore field
Peru – Updated 15,765 coordinates including 1,072 wells from unavailable to reliable datum
Latin America – Updated 1,028 well datum in Falkland Islands, Guatemala, Guyana, Honduras, Panama and Suriname
Argentina – Entered 274 unconventional development wells
Argentina – Offshore survey navigation layer project completed resulting in more than 342,444 km 2d data entered (inc. 2015 data entry). Neuquen Basin navigation project is underway.
For information relating to data improvements in 2015, download our Latin America Data Enhancements 2015 Summary