Frontier North America Editorial Achievements – 2016
With the depressed oil prices, the high rate of lease relinquishments in the deepwater US Gulf of Mexico continued through the end of 2016 led by ConocoPhillips, a major leaseholder in the deepwater US Gulf that decided to withdraw from deepwater exploration. This year's deepwater relinquishments included three, undeveloped Paleogene Wilcox discoveries – Gila, Moccasin, and Sicily. Industry interest in this year's OCS lease sales was muted, with the number of participants and bidding activity low. Exploration programs have shifted from high risk wildcats to concentrating on areas of operator expertise, focusing on prospects with tieback opportunities. The year has also seen new Norphlet and Paleogene discoveries at Fort Sumter and Gibson, respectively and appraisal drilling in the larger pre-sanctioned discoveries has been brisk. Several fields came online this year, including the subsalt Miocene accumulations at Heidelberg and Gunflint and the ultra-deepwater Paleogene oil finds of Julia and Stones. In Alaska one of the largest discoveries for the year was announced following the drilling of two wells in the Smith Bay off the north coast of Alaska by Caelus Energy. The well reportedly discovered up to 2-billion bo recoverable from the Cretaceous Torok formation. In East Canada, there were four licensing rounds offshore opened at some point during 2016. There were a total of 24 blocks on offer between the provinces of Nova Scotia and Newfoundland & Labrador. Eight blocks located off the east coast of Newfoundland were preliminarily awarded while fourteen received no bids, 10 remain open for bidding which closes in November 2017. Exploration drilling was limited in the 2nd half of the year to offshore Nova Scotia where Shell continues operating with one well drilled as a dry hole and one currently drilling, both wells are located in the deepwater of the Scotian Slope.
Editorial analysis of licensing, exploration drilling, planned infrastructure, development drilling and all other oil and gas related topics were covered by the FNA team during 2016. The team is based in Houston, Texas and consists of a total of 9 people with a combined industry experience of more than 200 years.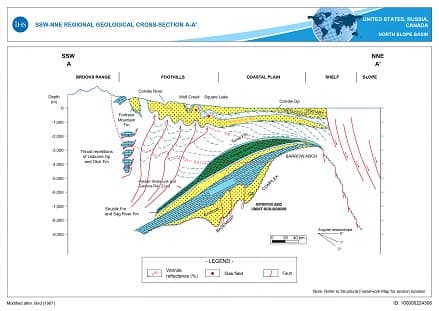 Cross Section, North Slope Basin
The FNA region currently accounts for over 22% of the total valid contracts globally as of December 2016, this is a 5% drop over the previous year primarily due to the low oil price globally. In Canada, a project is currently underway to synchronize well information with the IHS Canada database. Exploratory drilling activity in the DWGOM (≥400 m) resulted in 11 new discoveries (1 Wilcox, 1 Norphlet and 9 Miocene) in 2016, adding an estimated 673 MMboe of 2P recoverable reserves. The Bureau of Ocean Energy Management officially issued 110 new deepwater lease contracts to operators in 2016 as a result of OCS Sales 241 and 248, bringing the total number of valid contracts in the DWGOM to 2,089 at year end.
David McCaleb is an active member of the American Association of Petroleum Geologists and the Houston Geological Society. David attended the North American Prospect Expo's (NAPE) in February and August 2014. Justin Devery is a member of the Houston Geologic Society and the American Association of Petroleum Geologists.
Data Enhancements – 2016
Frontier North America – 4 Basin Monitors newly completed (Alaska Peninsular Fold Belt, Baltimore Canyon Trough, Georges Bank Basin and Greater Green River) and 2 further basins completely reviewed (North Slope and Scotian Basin Monitors)
Frontier North America – Completed 5 Giant (2P EUR >=500MMboe) Field Reviews which included a full revision of remarks, reserves, development, production volumes and IOR/EOR techniques
USA, Alaska – Updated rental commitments in 57 leases for the 1999 NE NPRA Lease Sale, 163 leases for the Lease Sale 86 and 32 leases for the Lease Sale 85A
USA, Alaska – 543 block names updated for consistency in historical leases in the Cook Inlet of the Alaska
USA, Alaska – On/offshore terrain updated in 480 wells
Canada – Updated depth reference elevation in 154 wells
USA, California Pacific Margin – 101 wells entered offshore California in Carpinteria and Hueneme fields
USA, California Pacific Margin – Updated 1,094 historical wells with tests, casing and header data
For information relating to data improvements in 2015, download our Frontier North America Data Enhancements 2015 Summary.