Continental Europe Editorial Achievements – 2016
During 2016, the Continental Europe (CE) team – nine professionals with extensive regional expertise and 10 languages spoken (another eight understood) has sourced and validated hard to acquire and often conflicting E&P-related data from the region's petroleum provinces, some of them with a history of production dating back to the mid-19th century (e.g. Carpathian mountain belt). The team continued to focus on conventional activities onshore and offshore, and followed all activities regarding unconventional resources.
As personal contacts within the industry are of utmost importance, colleagues in the team are regularly engaging in "scouting trips" to meet operators and licensing authorities and we also attend relevant conferences. We maintain a network of local correspondents and comprehensively communicate with companies to secure top quality and up to date information/data for the region.
In May and October 2016, two consecutive meetings of the Central Eastern Europe & Caspian (CEEC) Scout Group, a successful regional event held for 23 years were organized in Athens (Greece) and Balatonfüred (Hungary). With 176 and 164 attendees representing over 40 member companies and a few dozen companies/institutions present as guests, the meetings were both great successes, especially at the time of the downturn in the oil industry.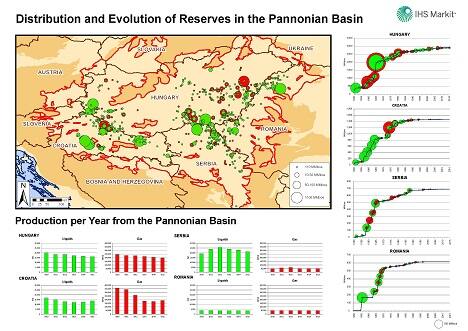 Distribution and Evolution of Reserves in the Pannonian Basin
Data Enhancements - 2016
Continental Europe – 8 Giant (2P EUR >=500MMboe) Field Reviews including a full revision of remarks, reserves, development, production volumes and IOR/EOR techniques completed
Continental Europe – Updated 84 wells with missing coordinates
Continental Europe – Updated area for 289 blocks with difference between official and GIS calculation
Continental Europe – Created 35 planned surveys
Croatia – Updated 44 wells with 16 dates, 11 coordinates, 39 ground level/water depths and entered 40 bottom hole formations, 38 stratigraphy, 654 sampling, 41 casings and 84 tests
Germany – Updated area/shape of exploration contract containing production enclave. As a result, 28 contracts were corrected, 47 blocks updated, 285 contract stages updated, 120 enclaves/blocks deleted
Germany – Updated 113 contracts in Nordrhein-Westfalen political province withy attributes including award, expiry, renewal dates, events and area changes
Germany – Updated EP contract stage and block for 147 Ridderade and 115 Scholen wells
Poland – Complete review of the 146 exploration contracts
Poland – Updated 71 wells with test data
For information relating to data improvements in 2015, download our Continental Europe Data Enhancements 2015 Summary