CIS Editorial Achievements - 2016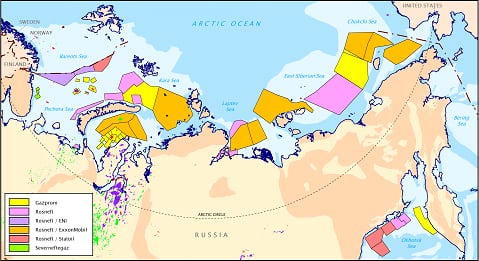 The Russian Arctic – a new exploration hotspot; Offshore License map as of December 2016
The Arctic region, of which Russia owns the biggest share, has become a special focus of recent attention. Few places remain in the world with such a high number of already discovered but undeveloped fields as the CIS region. Despite the international sanctions, seismic acquisition in the Russian Arctic exceeded license commitments by 2017.
A prerequisite for all analysis is a good understanding of the reserve base. Reserve and production data are the most valuable assets of the IHS database on Russia and the Central Asian republics. Access to new reliable sources has also allowed us to refine the historical well data of Russia.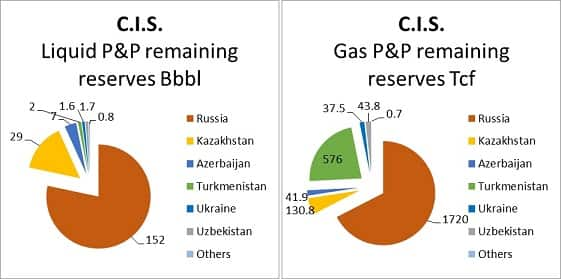 CIS 2P Remaining Reserves
The CIS team consists of 13 dedicated professionals. Russian-speaking staff in both the Geneva and Moscow offices enables IHS to capture and report accurate news in real time. Our editorial products were the first international publications to track licensing activity in context with auctions for E&P rounds and the results of certain high-impact exploration wells.
In 2016, team members attended a number of regional conferences throughout the year and provided several consulting sessions for customers in Europe, Russia and Asia-Pacific.
CIS Key Highlights – 2016
Basin Monitors – 7 Basin Monitors were completely reviewed including the Afghan-Tajik, Amu-Darya, Anadyr, Khatyrka, North Black Sea-Crimea, Terek-Caspian and Yenisey-Khatanga basins
CIS – Completed 21 Giant (2P EUR >=500MMboe) Field Reviews which included a full revision of remarks, reserves, development, production volumes and IOR/EOR techniques
Ukraine – Following complete revision of the fields data for the Dnieper-Donets Basin involving the adjustment of field and well locations according to relevant licenses, outlines, reservoirs, reserves and production a reliable GEPS map was published for the first time in June 2016

18 fields entered and 210+ fields updated with reservoirs, reserves and production
160 improved field outlines
4,920+ field production volumes entered
4,420+ field and reservoir reserves
106 wells entered and 1,178 updated

Russia – Updated 334 wells with coordinates in Caucasus area – Southern Volga Ural
Russia – Updated well locations for 71 wells in Dagestan, 28 wells in Krasnador and 18 wells in Saratov from field centres to proper locations
Russia – A substantial wells project is ongoing involving the matching and updating against a new dataset and has resulted so far in:

Yamalo-Nenets region (Western Siberia) – Locations of 4,587 wells in our DB were adjusted and 764 updated with basic data
Tatarstan (Volga-Ural) – 1,830 wells in our DB were updated from field centres to proper locations, basic data (name, TD, type, status, etc) for about 1,600 wells, previously absent in our DB were also updated, 27 historical wells entered and 30 updated with data including tests (project continues)
Taymyr – Entered 117 historical wells and updated 74 with attributes including tests
Baskortostan (Volga-Ural) – Matching of datasets is completed and update of 1,000+ wells is ongoing. Further extraction of basic data for 4,068 wells is also ongoing

Russia – Entered 74 new contracts as a result of various auctions effective since January 2016
For information relating to data improvements in 2015, download our CIS Data Enhancements 2015 summary