A technology study of the iPhone 7 and what lies ahead for the iPhone 8 and beyond
For its newest smartphone, the iPhone 7, Apple underscores two points in particular for the device's display:
Wide color gamut
A 25% increase in brightness
These claims have required Apple to approach the display technology in a complex and indirect fashion. There is also plenty of speculation around Apple's form factor for when it releases the next iPhone model in 2017. In all likelihood, Apple will switch from the current Liquid-Crystal Display (LCD) technology it now uses for the iPhone to Active-Matrix Organic Light-Emitting Diode (AMOLED).
Future iPhones might also consider sporting a flexible or foldable design, more likely within the 2019-2020 time frame when the iPhone could - surprise - be even unfolded to reveal an iPad.
Download this whitepaper on the iPhone 7 display by David Hsieh, Senior Director for Displays, to get:
An analysis of the technology behind the iPhone 7
A forward look into the possibilities, challenges and supply chain implications of a 2017 AMOLED and possibly curved iPhone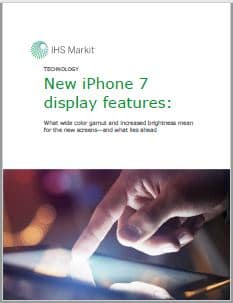 What lies ahead for the iPhone 8 and beyond?
To receive this whitepaper on the iPhone 7 display, fill in the form below.
required fields*