Digital healthcare will revolutionize the provision of healthcare services

Between 2015 and 2030, the number of people aged 60 and above will rise by 56%, from 901 million to 1.4 billion worldwide. However by 2050, there will be a global shortage of 13 million people in the health workforce.
How will the provision of digital healthcare solutions fundamentally alter the relationship between patients and the healthcare industry?
In this ebook, we examine the evolving relationship between clinicians, patients and how this transformation represents a ground breaking empowerment of consumers that will fundamentally impact businesses and the provision of healthcare services worldwide.
This ebook examines:
Clinical healthcare - What is driving technology to become a catalyst for change in the healthcare sector?
Remote healthcare - How is remote healthcare digitally empowering patients?
Consumer healthcare - Which methods and technologies will be used to improve wellness through technology?
View this ebook for key insights as to how ever increasing digitalization will revolutionize the global healthcare industry.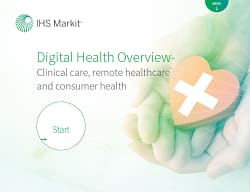 Digital Healthcare: Revolutionizing healthcare provision
Fill in the form below to view our ebook exploring how digital healthcare will transform the healthcare sector.
required fields*