IHS Chemical Bulletin is a quarterly complimentary publication, which features expert insight and analysis on the key issues shaping the global chemical industry.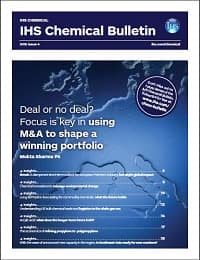 Latest Issue
In this issue, IHS Markit explores the use of M&A strategies by chemical companies to reinvent themselves in a low-growth economic environment – along with other expert analysis.
Previous Issues
Please complete the following to access this quarter's issue and register to receive future issues.
required fields*