Advance your competitive position, and stay on top of the latest trends by leveraging uniquely comprehensive data and insights on smartphone display technology and market dynamics.
IHS Markit Smartphone Display Intelligence Service is a comprehensive offering that covers all aspects of displays utilized in smartphones.
The service, updated in real time, tracks and forecasts smartphone display shipments, reports display prices, analyzes the supply chain and furnishes detailed cost breakdowns of selected smartphone display sizes and resolutions—for both LCD and OLED. This is "must-have" analysis for anyone who is a player in the smartphone market.
To receive a complimentary research excerpt from this service, please fill out the form on this page.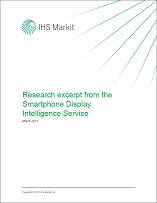 Access Research Excerpt
Receive a complimentary research excerpt from the Smartphone Display Intelligence Service.
required fields*