IHS Markit Insights is a quarterly complimentary publication, which features expert analysis of the key issues shaping the global chemical and energy industries.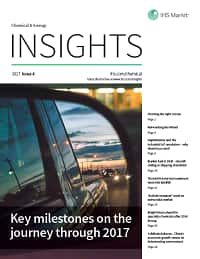 Latest Issue
In this issue, our current analysis and forward view is that we are in the midst of a strong upcycle, which should carry into the end of the decade and potentially the early 2020s. However, the fundamental assumptions about the chemical industry that carried your business through the past decade, are not likely to carry through the next. There are a number of fundamental changes beginning to emerge in energy and refined products, chemical markets, and end-use consumer demand. Understanding how these changes will impact the chemical industry in the next decade is critical to your continued success.
Please complete the following to access this quarter's issue and register to receive future issues.
required fields*