IHS Markit Insights is a quarterly complimentary publication, which features expert analysis of the key issues shaping the global chemical and energy industries.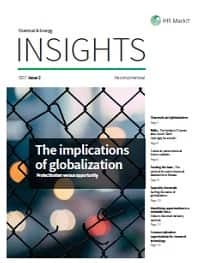 Latest Issue
The chemical industry is truly a global one. Whether companies are trying to monetize resources in countries with supply in excess of local demand, connect intermediates with competitive labor to manufacture more competitively, or leverage a better capital cost, there are few other supply chains that are more globally connected.
In this issue, discover the impact of globalization on the chemical industry, as it relates to Russia, China, the specialty chemicals markets and technology development.
Please complete the following to access this quarter's issue and register to receive future issues.
required fields*